The Stain of Time
A biography of Trent Reznor
by Remanon Last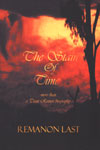 Purchase The Stain of Time online
for £8.99 plus postage
 
click here to order
 

Daimons, Past Lives and...an American rock star?


The Stain of Time is an unorthodox biography of Trent Reznor, one of the most innovative and influential men in the music industry today. Is it possible that a past lie has been the catalyst not only for his critically acclaimed career but also for the times of despair that threatened to overwhelm him? The Stain of Time...a Trent Reznor biography poses this very question as the author aided by the daimon Sigmund, compare a compelling story from the past to Reznor's life today.


A biography that pushes the boundaries


Remanon Last has been a student of Runic Law and Teutonic Magik for nearly two decades. (Discover more about Remanon here) Using the ancient Norse ritual of Wintersnights Ms Last was able to open communication with the daimon Sigmund, the source of the past life story documented in The Stain of Time. Determined to 'normalise' and shed the New Age trappings that are frequently associated with the concepts of the evolution of the soul and the angelic/daimonic reality Remanon Last is working on a new book Demystifying the Daimon.


Excerpt from The Stain of Time
Notes from the Daimon
FAQ